More Desirable Neighbourhoods by Geraldine Santiago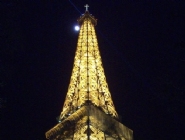 When Realtors place a value on your home, they know the local real estate market statistics, but most importantly, they know the intrinsic nature of the neighbourhood and its surroundings. Your property's location is valued as well its neighbourhood. Values, believe it or not, are placed on whether your neighbourhood has a certain 'cachet' or in other words-- 'neighbourhood appeal'. And these values can either be positive or negative.
In France, the 7th Arrondissement in Paris, which is located on the Left Bank, is Paris' quintessential neighbourhood. This neighbourhood is filled with culture and history. Its vintage atmosphere is the ideal and central location, in the heart of Paris. There are beautiful and unique shops, one-of-a-kind boutiques, book stores, antique stores, art galleries, chocolate shops, neighbourhood street markets, cafes and charming bistros-- all on quaint cobbled streets. The ambiance is full of character, full of joie de vivre!
In the United States and Canada, neighbourhoods with sidewalks, white picket fences, rather than chain linked fences, have positive values. In addition, neighbourhoods with well established and leafy trees and foliage, rather than that of a newly developed area without any greenery or landscaping whatsoever, have a positive value.
Examples of negative values are being too close to train tracks, power lines, a grow op, crack house, and even a bad neighbour with overgrown lawn and unsightly garbage and junk that can be seen in plain view, or a house with windows all boarded up.
Homes that are located on quiet neighbourhoods, traffic calming streets, or neighbourhoods with a cul-de-sac or no through roads (because they are more quiet and private) than those properties on a main street with a lot of traffic and noise, have positive values. In addition, properties with close proximity to public transit, public schools, parks and community amenities also have positive values.
There are apps and websites which rates a neighbourhood's 'walkability', and whether you can accomplish day-to-day errands such as buying groceries, going to the bank, restaurants, and local stores on foot in a certain neighbourhood.
According to Redfin, New York's walkability has a score of 88 (out of 100), though the neighbourhoods of Little Italy and Chinatown score 100. The city of Greater Vancouver scores at 78 but Kitsilano is Vancouver's fourth most walkable neighbourhood with a score of 89. Listing agents use these analytics to showcase a property's neighbourhood with a higher number on the Walk Score chart adding more value to a property.
"Bike Score" and "Pedestrian Friendliness" are also tracked, with higher metrics influencing property values in a positive manner. The data presented with these metrics also suggests that the higher the scores, the healthier the residents are (more active lifestyle). In short, this translates to a more desirable neighbourhood.
The Walk Score in Paris? You guessed it-- 100 out of 100 -- a "Walker's Paradise"- the entire city is a perfect place for people who like to walk where they live. There are many neighbourhoods in cities around the world that are unique, quaint, charming, and extremely desirable. Only a local Realtor will know how to value your neighbourhood and its wonderful qualities.
For more information on obtaining a more comprehensive evaluation by a local RE/MAX Realtor, anywhere in the world, please go to www.iEvaluateRealEstate.com or iEvaluateHomes App available at the App Store and Google Play.